Learning Objectives
Understand sleep and differentiate common sleep disorders

Differentiate OSA and types of sleep disordered breathing (OHS)

PAP therapy - when and how to use?

Confident in Selecting the right surgery for the right patient.
Curriculum
5 Modules

|

5 Videos

|

260 Minutes Total Hour
Understand sleep and know about common sleep disorders .

Sleep Apnea - yes or no?

Defining the severity for the problem

Treatment of OSA -part 1- non surgical

Treatment of OSA - part 2 - surgical
About the Faculty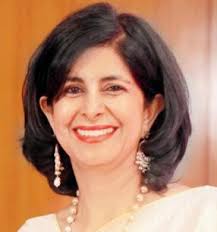 DR. MANVIR BHATIA is a Senior Neurologist and Sleep Specialist with more than 30 years of experience. Dr.Manvir is Director of Neurology & Sleep Centre, New Delhi. She is currently the Vice President of Indian society of Sleep research. She is the author of the book-"The Sleep Solution" first non-fiction book on sleep, in India.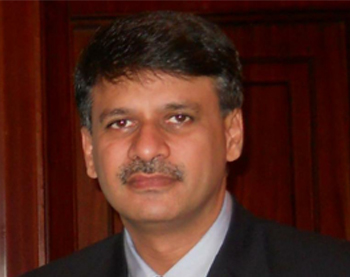 DR. SEEMAB SHEIKH An ENT surgeon with clinical experience of more than 25 years. He is HOD ENT, at Inamdar Multispecialty Hospital and Consultant ENT Surgeon and Sleep Specialist at KEM Hospital and Sahyadri Hospitals, Pune. He is founder & national president of the Indian Association of Surgeons for Sleep Apnea (IASSA). He has been trained in Germany, Norway, Singapore, etc .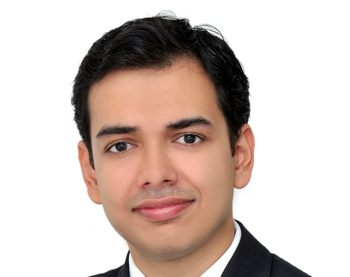 DR. RAHUL R. MODI An ENT surgeon with clinical experience of 14 years. He is a Consultant - Otolaryngology-Head & Neck Surgery; Surgery for Sleep Apnea at Dr L H Hiranandani Hospital / Nanavati Hospital . He was a visiting faculty - Division of Sleep Surgery, Stanford University, USA He has completed a Fellowship in Thyroid and Parathyroid Surgery from Harvard University, USA .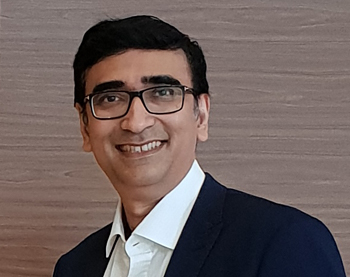 DR.SRINIVAS KISHORE S Dr. Srinivas Sistla is an ENT surgeon with clinical experience of 21 years. Currently, he is Director of ent and sleep apnea services at AIG Hospitals, Hyderabad. He did his fellowship in sleep apnea surgery at the University of Wisconsin. He is the immediate past president of the Indian Association of Surgeons for sleep apnea.

Eligibility-all doctors (General Physicians, MD, Cardiologists, Pulmonologists, Diabetologists, ENTs, Neurologists, Psychiatrists, Internal Medicine, Medical Trainees, Sleep Technicians, etc) seeking information and keep on enhancing their skills and careers in the field of sleep medicine.
Certificate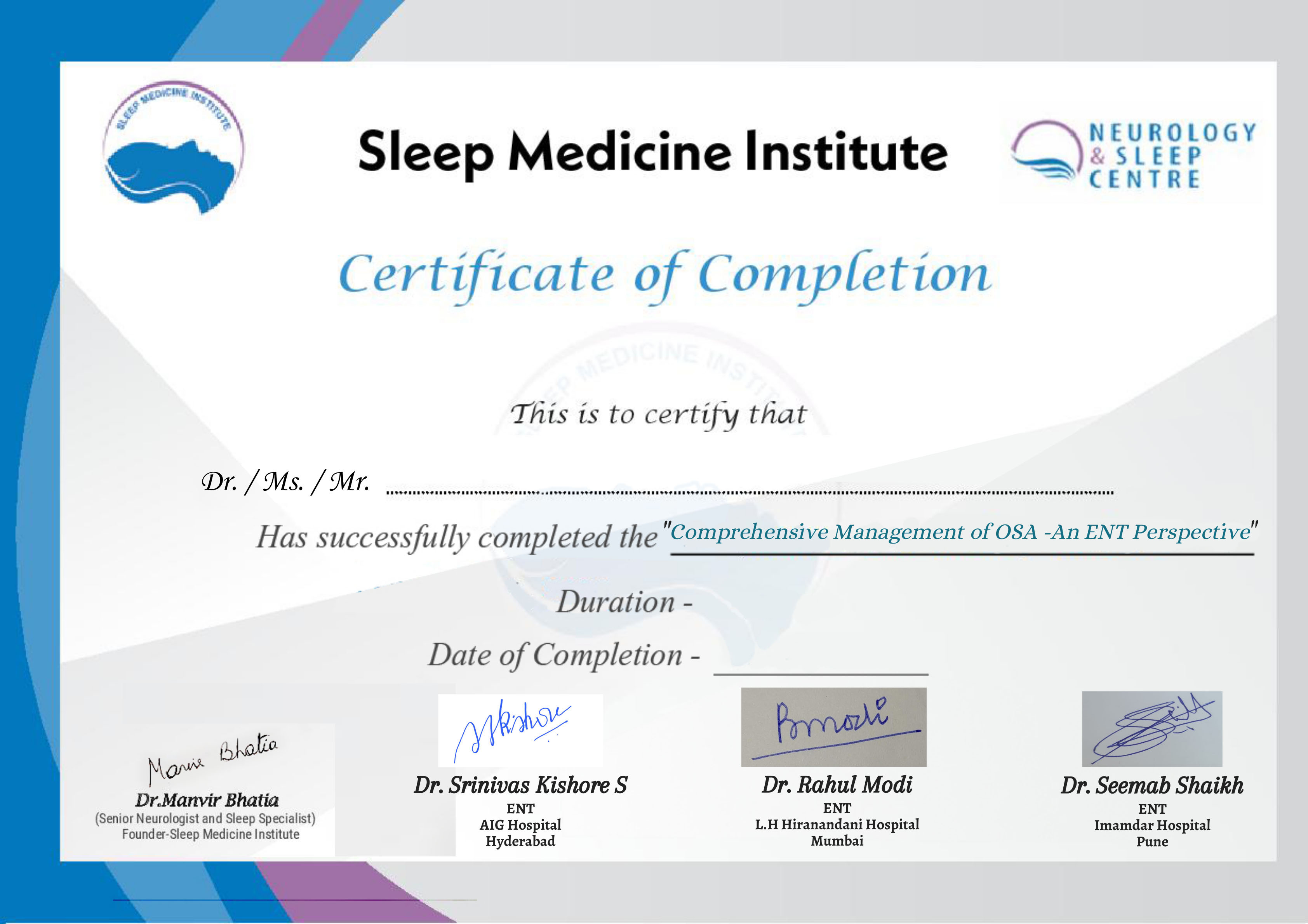 Highlights
Duration: 260 Minutes
Video: 5
Level: Advance
Certificate: Yes
Related Blog
Online ENT Sleep Medicine Course in India and Benefits

Read More
Enroll Now & Get FREE Access for the most Informative and Practical Sleep Courses !!

SMI, a division of Neurology Sleep Centre, is the first online platform which provides a practical comprehensive overview about sleep disorders, their diagnosis and management , for all those interested in enhancing their knowledge.
Address
---
L-23, Kausalya Park, Block L, Hauz Khas Enclave, Hauz Khas, New Delhi, Delhi 110016.
+91 11 46070321
+91 8527119474
10:00 AM - 5:00 PM
Popular Posts
---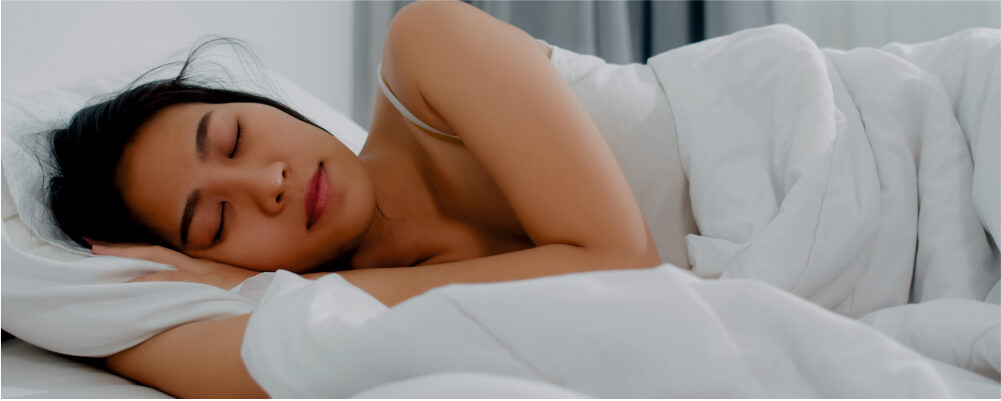 Blog on basic course in SMI
August 1, 2022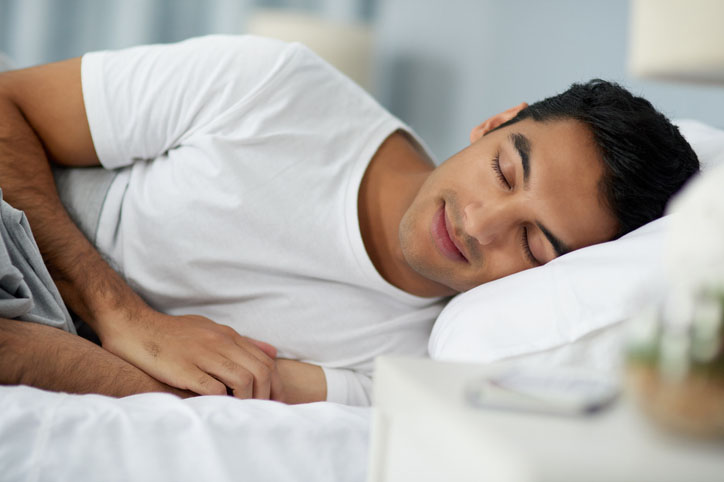 Comprehensive management of OSA-An ENT perspective (changed)
August 1, 2022